From concept and design through to supply and installation, we have been offering our expertise in irrigation solutions for many years; our irrigation systems are used across a range of different sectors for a number of applications.
We specialise in Drip Irrigation, Irrigation Pumps, Portable Long Reach Irrigation Systems Filters, Valves, Irrigation Controllers, Spray Equipment and Pop up Sprinkler Systems.
Applications of Mawdsleys Pumps Irrigation System
Crop Watering for Nurseries and Agriculture
Watering of crops is perhaps the most common use of our irrigation systems in the nurseries and agricultural industry. Proper irrigation ensures a good quality product and reduces the risk of crops dying from dehydration during dry months.
At Mawdsleys, we have a range of solutions available to suit the full lifecycle of crops; from overhead systems for nurseries to drip irrigation or pop-up systems for fields of adult crop.
Dust Suppression
When dust becomes airborne it can cause all manner of problems. Using water to suppress dust works by adding to the weight of airborne dust so it will fall to the ground.  
At Mawdsleys, we recommend our portable long reach irrigation system for effective suppression of dust. Markets we specialise in include:
Quarries and Mining Sites – Dust can cause a number of problems on a quarry or mining site including health and safety issues, reduced visibility and damage to machinery and vehicles on site.
A sprinkler system may also be installed at the site entrance to ensure that no dust is carried off-site by vehicles. Read our blog post for more information on dust suppression for quarries and mining sites.
Equestrian Centres – Many indoor and outdoor equestrian centres have problems with dust suppression. The nature of activities that take place within equestrian centres often results in dust being kicked up and becoming airborne, causing a hazard for riders and horses.
Whilst waxes, salts and fibres may also be used, water is by far the most cost effective method of suppressing dust in equestrian centres.  
Irrigation of Sports Pitches
Proper irrigation of sports pitches and playing fields improves surface quality and safety. Our irrigation systems are commonly used on football pitches, rugby pitches, cricket grounds, racecourses, school playing fields and hockey fields.
A portable long reach irrigation system is the most popular choice for this application, but a pop-up sprinkler system may be favoured in leisure environments such as golf courses, allowing for automated irrigation and giving the groundsman the flexibility to quickly irrigate the course.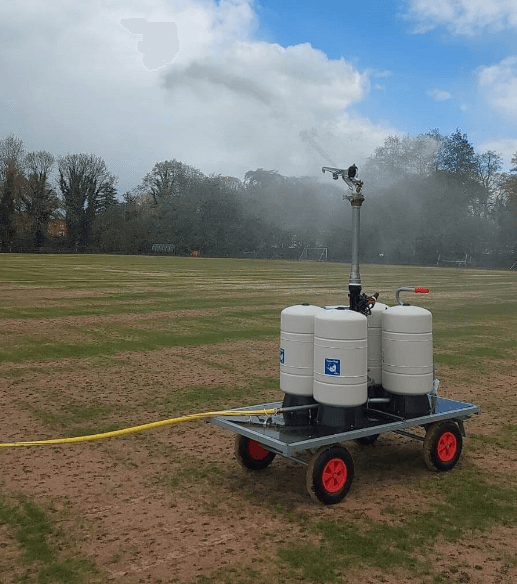 Livestock Cooling
Hot weather can have adverse effects on livestock such as pigs and cows, causing stress, lower milk production in dairy cows and lower food consumption. Using spray equipment is a cost effective way of cooling livestock, the benefits of these systems include:
Low set up and maintenance

Can be coupled with a rainwater harvesting system to reduce running costs to virtually nothing.

Increased food consumption in livestock.

Reduces stress in livestock.

Livestock is kept cleaner.
Irrigation System Maintenance Package
Mawdsleys Pump Services offer a complete irrigation service, including a spring start-up and autumn shut down schedule to increase equipment reliability and minimise breakdowns and failures. Typically, our standard package would include:
Spring Startup
Open mains inlet valve

Fill break tank, pressure vessel and pump

Check operation of electrical items to include earth and continuity tests

Fill underground mains/system using hydrants

Charge irrigation devices, clean components and spray with rust repellent if applicable

Check operation of any irrigation equipment fitted, lubricating/protecting essential components as required

Issue condition report highlighting any issues/remedial works required.
Winter Shutdown
Shut down mains inlet valve

Drain down break tank, pressure vessel and pump

Check operation of electrical equipment to include earth and continuity tests

Drain down underground mains using hydrants

Check irrigation equipment and lubricate/protect essential components for winter storage

Issue condition report highlighting any issues/remedial works required.
Contact Our Expert Team
We provide an end to end service for the design, supply, installation, ongoing maintenance and repair of all irrigation systems.
We also offer a 24/7 breakdown cover for immediate response when the situation arises. For more information, give one of our expert team a call today on Bristol: 0117 954 8030.