Mobile Long Range Irrigation for Sports Pitches & Playing Fields
At Mawdsleys Pump Services we offer design, supply & installation of new irrigation systems, plus service contracts and repairs to existing facilities.
The long reach irrigator is the ideal irrigation solution for football pitches, rugby pitches, cricket grounds, school playing fields, race courses, hockey fields and farms.
Call us now on 0117 954 8030 for an immediate response.
The new Mawdsleys Pump Services portable LRI system offers a number of benefits including:
Turntable trolley mounted to aid movability on site

6 bar min required

Nozzles can be changed to alter flow rate.

Standard football pitch irrigation times just 15-30 mins

Different units to meet your requirements 

Trolley is fitted with handle brake 

Massive cost savings vs. underground system 
Watch our LRI Sprinkler in Action
Request a Callback
We're happy to answer any further questions you may have about our Long Range Irrigation Sprinklers, please complete the form or call us on 0117 954 8030 and we will be in touch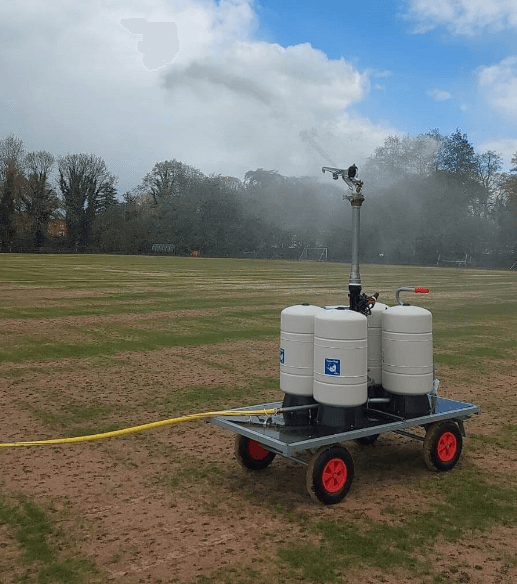 Trusted By Professional Clubs Including
In Stock Today – Get the Latest Competitive Prices
We have three different units available in stock which will suit different needs based on the area you wish to cover.
| | | |
| --- | --- | --- |
| | | |
| LRI 25  | LRI 50 | Self Travelling Sprinkler |
| 25m Radius | 50m Radius | 34 – 38m coverage |
| 50m Diameter | 100m Diameter | Download Spec Sheet |
| 3 Bar required at machine | 6 Bar required at machine | 2.5 Bar required |
| £8,600 + VAT | £8,800 + VAT | £2,500 + VAT  |
Irrigation FAQs 
Mobile Long Reach Irrigation 
Our Long Reach Irrigator (LRI) is a unique portable watering system – LRI25 & 50 are automatic, 12V Battery Operated, mobile watering systems that provide a means of watering large areas quickly and efficiently.
Sports fields and pitches benefit from LRIs as the turfed areas are usually so vast it is difficult to keep them suitably watered without an irrigation system of some kind.
To attempt this job without an effective irrigation system could take days to be done correctly, but with an LRI it can be achieved in a couple of hours or less depending on the size of the area.
If you do not have access to a water source with adequate pressure, we can assist with the design and installation of a tank and pump to suit your requirements.
All our football field sprinkler systems are supplied at a highly competitive price and offer significant savings over other pitch irrigation systems. To find out more and get up-to-date prices please get in touch or fill out the form below to request a callback

Testimonial from Crystal Palace Football Club
We are passionate at being able to provide the most suitable and best results for our clients, and we are thrilled when we receive great feedback, Crystal Palace Football Club required a system to help maintain their football grounds, and here is what their Head Groundsman had to say:
"We use our Long Reach Irrigators all the time. They are particularly good if you leave them on overnight. Out portable LRIs cover such a wide area and give the perfect sprinkling, so they don't puddle up.


The other benefit is the long reach, which you can adapt to suit the area you need watered. It is particularly good before training sessions or matches when we need to lightly water the whole pitch in a very short time – the LRIs only take one hour to water the whole pitch whereas ordinary travelling sprinklers take 3 hours."

Mark Perrin, Head Groundsman, Crystal Palace Football Club
Other Applications 
In addition to irrigation, the LRI has a number of other uses including dust suppression at equestrian centres / riding schools and quarries & mining sites. It can also be used for livestock cooling on farms.
Whatever application you require an irrigation system for, it will become integral to your maintenance process, as it enables you to uphold the quality and performance of any surface, which is crucial not only for the ground itself but for people using the surface as well.
View Case Studies For Our LRI System 
Talk To The Experts
Want to find out more about how an LRI could be of benefit to you, give our team a call today on 0117 954 8030 to receive expert advice on how our system works and what is the most suitable solution for you.