We expect a lot from our sports fields.  We increasingly want them to stand up to longer playing seasons, a multitude of uses and all the punishment that the British weather can throw at them.  Waterlogged one minute, dry and parched the next, then completely frozen solid – it's a wonder that the poor turf doesn't just decide to give up all together.
Rise to the challenge
If you're a Groundsperson, you probably feel like you're fighting your own battle against Mother Nature. No doubt you're working with constricted budgets and the pressure of having to provide a cost effective service – all while trying to ensure your sports ground looks beautiful and provides a safe surface to play on.
No matter what your sports field is used for, compaction is likely to be your biggest challenge.  Not only is it the primary factor in sporting injuries, it can also mean death to turf. In a compacted soil, the roots have little chance to absorb the air and water they need to feed the grass and ensure its survival.  
Start with good irrigation
The right irrigation system can make your life so much easier. Whilst many sports grounds already use sprinkler systems, better results could be achieved by using a portable long reach irrigation system. These systems can be moved around the pitch, delivering water exactly where and when it's needed. This ability to control the amount of water delivered in any one place means you can avoid overwatering an area which is prone to waterlogging or concentrate on areas which are especially dry or compacted.
Mark Perrin, Head Groundsman at Crystal Palace Football Club has a system supplied by Somerset Pumps and told us, "We use our long reach irrigators all the time. It is particularly good before training sessions or matches when we need to lightly water the whole pitch in a very short time – the LRIs only take one hour to water the whole pitch, whereas ordinary travelling sprinklers take 3 hours."
The benefits of a portable long reach irrigation system
These systems can be a real boost for clubs who can't afford to invest in an underground watering system. Our portable long reach irrigator is the only system of its kind which can run off a standard mains supply.  It's also able to water large areas of turf quickly and efficiently, even if you're in an area with poor water pressure. What's more, it's easy to move so can be used across all your pitches and to target specific problem areas.
Someone else who wouldn't be without their Somerset Pumps portable long reach irrigation system is FA Groundsman of the Year, Kevin Turney. He says, "It's an invaluable part of the grounds team and has never let us down. It has to be seen as an investment not a cost as without it our pitch would be nowhere as good as it is today."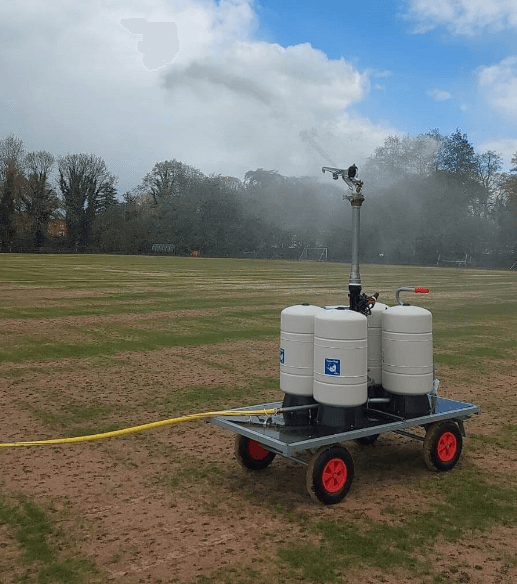 How our systems work
Here at Mawdsleys Pumps, we have different sized systems available, depending on the size of your sports ground. Both units can be left to run unattended day and night without problems and are free standing and completely portable. In fact they work just like a permanent underground system but for a fraction of the cost.
n Stock Today – Get the Latest Competitive Prices
We have three different units available in stock which will suit different needs based on the area you wish to cover.
| | | |
| --- | --- | --- |
| | | |
| LRI 25  | LRI 50 | Self Travelling Sprinkler |
| 25m Radius | 50m Radius | 34 – 38m coverage |
| 50m Diameter | 100m Diameter | Download Spec Sheet |
| 3 Bar required at machine | 6 Bar required at machine | 2.5 Bar required |
| £8,000 + VAT | £8,600 + VAT | £2,500 + VAT  |
If you do not have access to a water source with adequate pressure, we can assist with the design and installation of a tank and pump to suit your requirements.
All our football field sprinkler systems are supplied at a highly competitive price and offer significant savings over other pitch irrigation systems. To find out more and get up-to-date prices please get in touch or fill out the form below to request a callback
Perfect pitches for cricket, rugby and football
Different sports demand different playing surfaces but irrigation plays an important role in all of them. On cricket pitches it will help the soil particles stick together and aid the rolling process, while on rugby and football pitches, efficient irrigation will ensure the production of a healthy and resilient turf that delivers maximum playability and reduces the risk of match cancellations due to water logging or dry, hard surfaces.
Talk to the specialists
We'd love to help you produce the perfect playing surface. To find out more about any of our irrigation systems or talk to us about designing a bespoke solution for your sports ground, just call our friendly and knowledgeable team on 0117 954 8030.